WELCOME
Our mission: To educate, empower and engage the Latino caregiver of Alzheimer's and Memory Disorders family members by providing skill building training, and compassionate support programs.
Since 2008, Latino Alzheimer's Alliance has served more than 750,812 Latino families via its Bilingual/Bicultural programs. Our partners and collaborators have provided support to the Latino Alzheimer's Alliance initiatives. Some of our collaborators range from clinics to senior centers and from hospitals and universities to government institutions.
---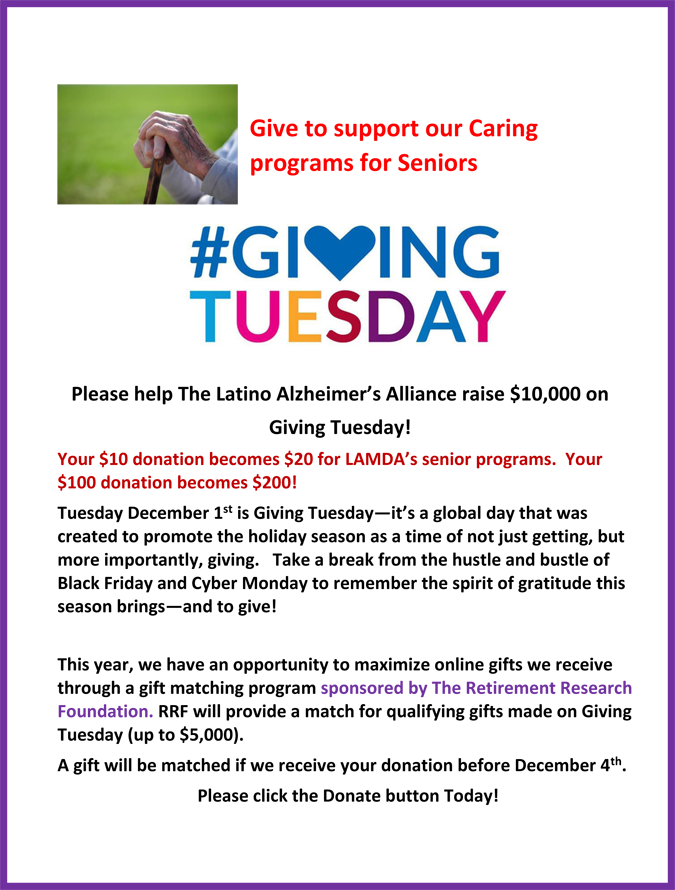 ---
Eliminate Stigma * Fight Alzheimer's
Between 2008 and 2030 the Latino population aged 65 years and older will increase by 224 percent compared to a 64 percent increase for the white population aged 65 and older.
Alzheimer's is not part of the age, but could be part of your family -- be informed.
---
News
LAMDA has participated in the production of a Caregiver story video for NCLR. We deeply appreciate the collaboration of Jose Biller, M.D., FACP, FAAN, FANA, FAHA Professor and Chairman, Department of Neurology at Loyola University in Chicago. We congratulate the Mrs Velasquez Family for their great commitment, support, and hospitality during the video production time!


---
We Believe in Team Work!
We are proud to work in collaboration with the Consulate of Mexico in the principle cities of the USA where the Hispanic/Latino community represents more than 25,000,000. This includes the Los Angeles Department on Aging, Cook County, Illinois Department on Aging, New York Department on Aging, and The National Council of La Raza. Other care-friends collaborators: